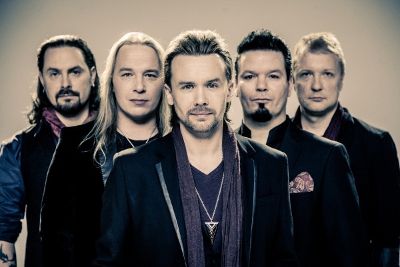 Discography
2006: False Metal
2008: Heart Full Of Fire
2014: Diamond In The Pit
2017: Sunbound
Bandinfo
Back in 2002 Leverage Singer Pekka Ansio Heino and Nightwish guitar wizard Empuu Vuorinen decided to do a new band called Brother Firetribe to celebrate their passion for AOR. With their first album "False Metal" in 2006 they hit the spot with a bang. Their follow up records marked their status as one of the leading genre acts.
Their new album "Sunbound" (2017) again is a masterpiece with big hits.
Since they never played any festival in Germany before this again is a premier on our festival.
We are looking forward for a hit overkill of this Hard Rock outfit from Finland.
2002 gegründet von Leverage Sänger Pekka Ansio Heino und Nightwish Gitarrist Empuu Vuorinen konnten Brother Firetribe mit ihren Debütalbum "False Metal" 2006 die Szene von hinten aufrollen. Seither sind sie in aller Munde und konnten mit ihren folgenden Alben dieses Status untermauern. Mit ihrer 2017er Scheibe "Sunbound" ist ihnen wieder ein Meisterwerk gelungen.
Da sie noch nie in Deutschland auf einem Festival gespielt haben steht uns hier eine weitere Premiere ins Haus. Freue wir uns auf einen Hit Overkill dieser finnischen Band!!!