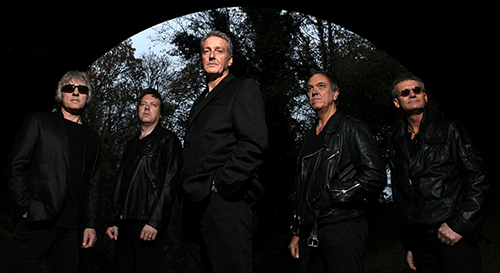 Discography
1986: Indiscreet
1989: Tough It Out
1991: Takin' It To The Street
1992: Aphrodisiac
1995: Dead Man's Shoes
2010: Metropolis
2013: Rockville
2013: Rockville II
2015: Heroes And Villans
2016: Indiscreet 30
Bandinfo
Formed in the summer of 1984, FM since then is the leading Melodic Rock band from the UK. After touring Europe with bands like Meat Loaf, Bon Jovi, Tina Turner, REO Speedwagon (just to name a few) they where on the top of the game with their second album "Tough It Out" in 1989. The Nineties was a hard decade for FM, like for all the other acts of this scene as well, and the band called it quits in 1995.
2007 they returned with a fantastic show at UKs Firefest and from this day on the band is back on track.
They released five records since 2010. One of them is an incredible new recording of their legendary debut album "Indiscreet".
We are happy to have this legendary band on our festival for thefirst time!!!
Gegründet im Sommer 1984 waren FM schnell DIE Band in Sachen Melodic Rock aus England. Nachdem sie europaweit mit Bands wie Meat Loaf, Bon Jovi, Tina Turner, REO Speedwagon (um nur ein paar zu nennen) getourt hatten, waren sie mit ihren zweiten Album "Tough It Out" von 1989 ganz oben Leider wurden die Neunziger Jahre auch ihnen zum Verhängnis und man löste sich 1995 auf.
Überraschenderweise trat man 2007 als Headliner auf dem englischen Firefest Festival auf und ist seither wieder am Start. Seit 2010 veröffentlichten FM fünf Alben, darunter eine fantastische Neuaufnahme ihres Debütalbums "Indisceet".
Wir sind stolz diese einmalige Band zum ersten Mal auf unserem Festival zu präsentieren.