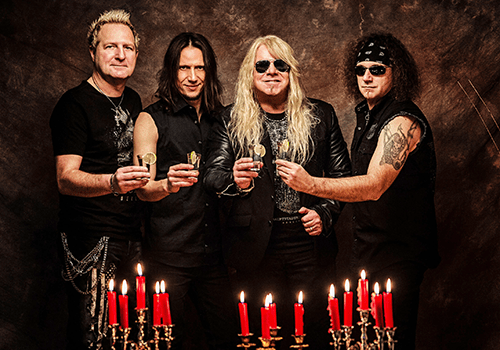 Discography
1984: Danger Zone
1985: Touch Of Sin
1986: Comin' Out Fighting
1987: Dangerous Charm
1992: No More Alibis
1993: Respect
1995: Bottom Line
1996: Judgement Day
1998: The Nature Of Evil
2000: The End Of Sanctuary
2003: There Will Be Execution
2007: Mask Of Sanity
2008: Crash & Burn
2011: One Bullet Left
2013: Touch Of Sin
2017: Tequila Suicide
Bandinfo
SINNER

Sinner is one of the oldest Hard Rock Bands in Germany and still on top of the game. One of their secrets, besides awesome records with many many hits is that they never gave up. They are around since 1979 and still rockin' with passion like they are still in their twenties. It is no secret that this band is one of the favorite bands of the festival owners and with they new album "Tequila Suicide", which is one of the best n their long career, they deserve to play at our festival for the second time after 2014!
We are looking forward to meet out friends Mat, Tom, Alex, Francesco and their guests again!
SINNER
Sinner ist eine der ältesten und wohl erfolgreichsten Hard Rock Bands aus Deutschland. Eines ihrer Geheimnisse, neben hreausragenen Alben, ist wohl die Tatsache dass sie niemals aufgehört haben und immer da waren. Seit 1979 sind sie aus der Szene nicht mehr wegzudenken und gehen immer noch mit Leidenschaft und Spaß an der Sache auf die Bühne. Es ist kein Geheimnis das Sinner zu den Lieblingsbands der Festival Organisatoren zählt und nach ihren neuen Album "Tequila Suicide", einem der besten ihrer langen Karriere, haben sie es verdient erneut nach 2014 auf dem Festival aufzutreten.
Wir freuen uns darauf unsere Freunde Mat, Tom, Alex, Francesco und ihre Gäste wieder zu sehen!